DAUGAVPILS, MAY 10, 2002. The American Ambassador to Latvia, Brian E. Carlson, and a team from the Embassy visited Daugavpils for two days. During his visit he had a meeting at the City Museum with the Centenary Celebrations local co-ordinator, Farida Zaletilo, some of her colleagues, and Livija Jankovska, Deputy Mayor of the City. Ambassador Carlson viewed a special Rothko exhibition mounted by Farida Zaletilo, including archive material and a photographic montage of the city at the time of Rothko's life here. The Embassy expressed interest in the planned celebrations, and it is hoped that they will participate in and support the event.
Memorandum of Intent
Whereas, Mark Rothko, long recognized as one of the 20th century's foremost artists, was born in Daugavpils and emigrated to the United States in 1913;
Whereas, the works of this renowned Abstract expressionist, highly valued by collectors and curators, are displayed in prestigious galleries and museums worldwide;
Whereas, September 25, 2003 marks the centenary of this birth;
Whereas, we wish to honor an artist whose legacy pays tribute to his Latvian and American experience and to encourage learning about one of Latvia's most famous sons;
Whereas, the Rothko jubilee provides another opportunity to remember Latvia's rich cultural heritage and draw it to the world's attention:
Therefore, a series of events will be organized leading up to the main centenary activities in September 2003. Parallel activities will take place in both Riga, the capital, and Daugavpils, Rothko's birthplace.
This celebration will greatly assist in raising the profile of the country internationally, increasing national pride, and fostering inclusiveness among diverse regions in pursuit of a shared goal.
Therefore, we resolve that the Government of the United States, through its embassy in Riga, and the Government of Latvia, through its Ministry of Culture, will cooperate to plan a 2003 Mark Rothko centenary program in Latvia.
Therefore, on a practical level, a National Steering Committee will be established for the overall organization and coordination of events; a Project Manager/Coordinating Curator will implement the committee's proposals. The National Steering Committee will work in close liaison with the Daugavpils Administration Committee and the American Embassy Public Affairs Section.
The governments of the United States and Latvia will, to the extent that funding may be available, assist in supporting the Mark Rothko centenary program.
U.S. EMBASSY Brian E. Carlson U.S. Ambassador MINISTRY OF CULTURE Karina Petersone Minister of Culture
President Vaira Vika-Freiberga meets with the family of Mark Rothko February 18, 2003.
Washington, February 18, 2003
State President Vaira Vike-Freiberga meets the family of Latvia-born US artist Mark Rothko.
State President Vaira Vike-Freiberga met famous US artist Mark Rothko's daughter and her family in Washington today as Mark Rothko had been born in Daugavpils, Latvia.
During the meeting its participants spoke about the organization of events devoted to Mark Rothko's centenary this autumn in Daugavpils, where in co-operation with the US National Gallery, US Embassy in Latvia, Latvian Ministry of Culture and the Jewish Community it is planned to exhibit Mark Rothko's paintings.
State President and Kate Rothko spoke about the role of a small country in the world and the ways of its self-presentation. The President stressed that the wealth of Latvia had always been and would continue to be its people and their creative achievements. She stressed that every person coming from Latvia or feeling that they belonged to it, including Mark Rothko, were important for the country.
Kate Rothko said that she would be glad to visit her father's motherland to participate in the opening of the exhibition in Daugavpils as well as in the unveiling of the commemoration plate at the house in Daugavpils, where he together with his parents had lived at the beginning of the 20th century.
The President and Mrs Rothko also dealt with the recent developments in Latvia in connection with its integration in the European and transatlantic structures, stressing that Latvia had achieved a lot in order to continue its development and integrate in the united Europe. Kate Rothko thanked the President of Latvia for preserving the Jewish culture monuments in the country and supporting the Jewish culture life in Latvia. Vaira Vike-Freiberga stressed that Latvia had always respected the culture of other nations and the Latvian society was very integrated and as such it appreciated the achievements of co-citizens.
Mark Rothko was born in 1903 in Daugavpils, Latvia and together with his parents moved to Portland, US at the age of 10. He studied the English and French languages, European history, mathematics, physics, biology, economics, history of philosophy and psychology at the Yale University, however gave up studies and moved to New York, where his career as artist started making him a well-recognized US artist. Mark Rothko contributed to the creation of the new abstract way of painting. On 25 September Mark Rothko would have celebrated his centenary.
President of Latvia's Press Department.
Meet Mark Rothko! seminar takes place in the Riga School of Arts May 8-9, 2003
By Ilze Kupca
Translation by Janis Meija
Meet Mark Rothko! is an educational program whose goal is to introduce Latvian teachers and students to Mark Rothko and his artistic legacy.
Among the program's events was a seminar for Latvian art teachers, which took place on May 8-9 in the Riga School of Arts. The goal of the seminar was to introduce the teachers to Mark Rothko's creative process and his art of painting, namely his theoretical and practical methods. Twenty teachers from all over Latvia took part in the project.
On day one of the seminar, eleven Mark Rothko reproductions were displayed in the Riga School of Art. Baiba Sprance and Ilze Vitola gave a lecture entitled: "Introduction to Mark Rothko's creative process, and afterward, a discussion was led by Aija Zarina and Ilze Kupca.
On day two of the seminar, practical lessons were led by Aija Zarina and Baiba Sprance. Seminar participants studied the many aspects of Mark Rothko's creative process through hands-on painting assignments.
The teachers were encouraged to introduce their students to Mark Rothko and his works when they returned to their schools. Each teacher was given materials, Rothko posters, and film to photograph and document the art lessons where the children were introduced to Rothko and his works.
The project will continue in many Latvian art schools, as well as in regular high schools, and information will be gathered and selected works chosen. These works will be displayed in September in the "Heges" Hall of the State Museum of Art parallel with the Rothko exhibition from the National Gallery of Art in Washington, D.C.
The seminar was led by Ilze Kupca, art education program coordinator at the Ministry of Education, Baiba Sprance, State Museum of Art public affairs specialist, Ilze Vitola, professor at the University of Latvia and the Latvian Academy of Arts, and artist Aija Zarina.
The project is implemented by the Arts Educational Center "III Krasas," and financial support is provided by the Culture Capital Foundation.

Two Rothko works sold at Sotheby's May 13, 2003
Two Rothko works on paper sold at Sotheby's in New York this week (Grays in Yellow 1960 -- for $960,000, almost double estimates -- and White Over Orange 1959 from the Toledo Museum of Art -- for $702,400, slightly below estimate). You can get details at www.sothebys.com -- go to auction results. They sold at the 5/13 evening auction: lots 10 and 18.
Rothko Painting Draws $16.4 Million in New York May 15, 2003
May 15, 2003
Rothko Painting Draws $16.4 Million in New York
By REUTERS
Filed at 12:05 p.m. ET
NEW YORK (Reuters) - A 1958 painting by abstract expressionist Mark Rothko sold for $16.4 million a record for his work -- at a Christie's auction of postwar and contemporary art, the auction house said. The painting, ``No. 9 (White and Black on Wine),'' gained the highest bid of the sale Wednesday night, Christie's said. The previous record for a Rothko work was $14.3 million, set in 2000. In total, the auction fetched $69.8 million, although only 72 percent of the lots by artists such as Rothko, Yves Klein and Andy Warhol were sold
"The message from tonight's sale is that the art market is strong," Christopher Burge, honorary chairman of Christie's America and the evening's auctioneer, said in a statement. "There was furious bidding for works of great quality."
The second-highest price paid was also for a Rothko painting, the 1957 work "Brown and Blacks in Reds," which went for $6.7 million. Klein's 1958 sponge relief painting "RE 2" went for $5.3 million, short of the record for the artist of $6.7 million set for his "RE 1" in 2000. A 1966 Warhol work, "Marlon," featuring a leather-clad Marlon Brando on his Triumph motorcycle, went for $5 million, while one of Warhol's iconic soup can paintings from 1962, "Campbell's Soup Can (Pepper Pot)," fetched $2.4 million. Frank Stella's 1959 painting. "Bethlehem's Hospital" was sold for $4.4 million, the sale's fifth-highest but short of the pre-sale estimate of $5 million to $7 million.
Copyright 2003 Reuters Ltd. http://www.online.reuters.com
Home: http://www.nytimes.com
Privacy Policy: http://www.nytimes.com/ref/membercenter/help/privacy.html
Search: http://query.nytimes.com/search/advanced/
Corrections: http://www.nytimes.com/corrections.html
Help: http://www.nytimes.com/membercenter/sitehelp.html
Young Artists Dedicate Works to Mark Rothko May 16, 2003.
May 16th, 2003
Latgale Times
Young artists dedicate works to Mark Rothko
By Inese Baranovska
Translated by Janis Meija
On May 9th, an exhibition of the "Saules" (Sun) school children's artwork, entitled "Dedication to Mark Rothko", was displayed in the "Renesanse" Theater. Farida Zaletilo, the curator of the Daugavpils Museum of Regional Studies and Arts, explained that this is the first of many events that will take place leading up to the 100-year anniversary of Mark Rothko's birth. An international conference will take place in September in Daugavpils, in which many museum curators and high level experts from all over the world will gather. The conference will also include the premier screening of a Paris television movie about Mark Rothko. In this way the city of Daugavpils will demonstrate to the world their role in and link to the preeminent artist's heritage. Unfortunately, many references to Mark Rothko in galleries throughout the world mistakenly note his place of birth as Lithuania, explained Farida Zaletilo.
Mark Rothko was born in Daugavpils in 1903, and in 1913, along with his family, moved to the United States where he became a noted abstract expressionist artist. In 1970 his life came to a tragic end in New York, when he committed suicide.
The artist's connection with Daugavpils was only recently uncovered and the students of the art high school "Saule" have begun paying more attention to the creative works of Mark Rothko. Along with their instructors, the students attempted to emulate the artist's style in their paintings, in an effort to show their understanding of Rothko and his unique method of painting. Farida Zaletilo expressed pleasant surprise that the works were extremely well done.
Marija Gnezdova, a "Saules" school 2nd year student, explained that she had not yet become very familiar with the artist, although she has seen almost all reproductions of his works, and has studied about Rothko's technique and the types of colors he used, which were important to his unique style. Ms. Gnezdova mentioned that she was most fond of his drawings.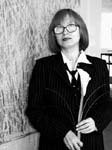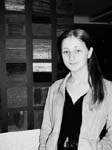 Instructors and students paint on the shore of the Baltic Sea June 18, 2003
Meet Mark Rothko! art lessons in Svetciems
Ilze Kupca
On June 18, art lessons dedicated to Mark Rothko took place in Svetciems, near Salacgriva. 25 art students and instructors from Ulbroka Art School took part in the event, which was part of summer educational lessons.
The topic of the art lessons was Mark Rothko, specifically his personality and creative work. Art Education Center III KRÂSAS (colors) lecturers Aija Zarina, Ilze Vitola, and Ilze Kupca led the art lessons.
During the morning lessons students learned about Mark Rothko, his life and art. They participated in discussions about the artist's principles of painting, commenting on and interpreting Rothko's quotes on life, art and values.
On the seaside, students explored the various colors of the sea - the color is an important means of expression in the paintings of Mark Rothko. Students had to write an essay about the sea and its colors. In the afternoon lessons they painted according to the texts of their essays.
The event was organized and directed by the Art Education Center III KRÂSAS (colors), and financially supported by the U.S. government.
Rothko water colour reproduced for the first time -exhibited in Daugavpils!
"Fantasitische!!! The new proofs are perfect. Thank you for all your fine work." This is citation from the letter of one of the exhibition's organizer to Gerhard Kiss for whom this job was a great challenge. He tried to use all his experience in high resolution scanning and printing.
The work of fixing thirty-five reproductions of Rothko's work onto the stretchers has come to an end! Like his pictures, they are on a large scale (1.30 x 2 metres or even larger). They are printed on linen, which is impressively similar to the canvas of the originals.
The whole collection was made in Vienna. A transparency was made for each reproduction, sent first to New York, and then to Vienna, by express mail - a great co-operative venture.
Among the reproductions are "Blue and grey", kindly donated by our Swiss partners, "Red on orange" and Number 10 from the Museum of Modern Art in New York.
The most intriguing reproduction is of a water colour, from Rothko's surrealist period, which has never previously been reproduced - in books or catalogues. This will come as a surprise to the many experts visiting the new Rothko Memorial Hall in Daugavpils.
Come to the Rothko Memorial Hall in Daugavpils and you will have the unique chance to see this water colour, as well as other quality reproductions of his work.
Our thanks go to Rothko's children (Christopher Rothko and Kate Rothko-Prizel), to Gerhard Kiss in Vienna (reproduction's wizard), to the Fondation Beyeler in Basel, to the Museum of Modern Art in New York and to the Carnegie Museum of Art in Pittsburgh. Without their support and enthusiasm, this unique exhibition could not have been achieved.